Post by That's So Wizard on Apr 22, 2020 17:09:07 GMT -5
Jai'galaar-class Strike Fighter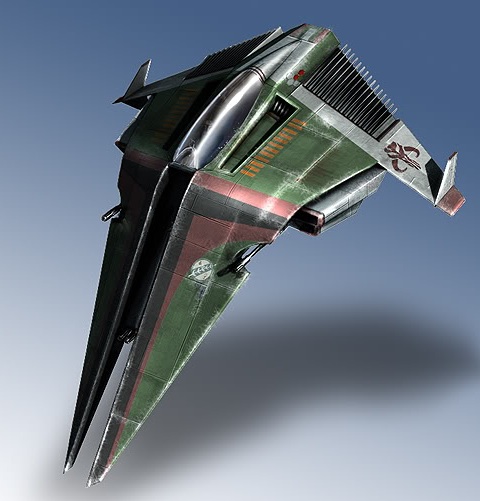 Multi-purpose medium fighter for the Mandalorian Fleet


Name • Jai'galaar-class Strike Fighter; nicknamed the 'Venom'
Classification • Ship; specifically a medium-sized Strike Fighter
Origin • Clan Ordo; available to most Mandalorians



Specifications


Size •
- Height: 8m (approx.)
- Width: 8m (approx. wingspan); 4m (approx. hull)
- Length: 10m (approx.); tip to tail
Appearance •

The nickname of 'Venom' is well-earned; the distinctive 'fanged' hull certainly gives this fighter an intimidating look, especially in low orbit. With cooling fins and vents, the primary weakness of the fighter is rather obvious but it's rather large size and strange shape make it hard to pin down where to exploit said weakness. The color and designs painted on the hull are usually left up to the pilot to personalize and usually contain various words in Mando'a or clan symbols, depending on how artistic the pilot is.
Function
As a strike fighter, the Jai'galaar is generally meant for bomber interception and escort; most often deployed alongside orbital drops of Basilisk War Droids. Developed by the new shipyards on Ordo and designed and commissioned by Clan Ordo, it's addition to the Mandalorian fleet was a much-needed answer to Republic and Sith bombers, small pirate vessels and boarding parties. Effectively, it was meant to be the chisel to the hammer that was their capital-class vessels.

Sporting a durasteel hull, angled to offer better protection from front-facing missiles, shrapnel/debris and mass-accelerated projectiles by encouraging glancing blows, it unfortunately has somewhat of a soft underbelly. The vital components are located on the underside of the durasteel hull are encased in relatively thin plating and are vulnerable to both blaster fire and heat. This second aspect becomes important when regarding the engine.

The Jai'galaar's engine, repulsorlift technology and thrusters are developed from those found on on the Basilisk War Droids and are somewhat badly optimized, resulting in huge amounts of potential forward speed but sustaining such speed generates massive amounts of heat and starts to distort components very very quickly. This problem is so prevalent that the underside of the fighter starts to glow red after extended use; enough heat to make it very very hard to pilot. Using 100% speed for more than approximately ten seconds at a time, with at least a thirty second cooldown between each 100% burst of speed, will result in catastrophic parts failure and a potential explosion in the engine.

However, where it the Jai'galaar does shine is it's maneuverability; sporting a fairly balanced center of gravity due to it's unique design. It's turning is therefore very sharp, with pilots being trained to feather the engine in order to achieve very jagged bursts of speed with a seemingly instantaneous direction change up to 90 degrees. This is particularly important for effective use of the vessel's weaponry.

The 'Venom' sports a blaster cannon on each side of the hull near the cockpit and a further two towards the tip of the craft. This is in addition to two light missile tubes on either side of the cockpit, though these generally tend to have only a few shots, approximately four each side. None of these weapons can pivot, meaning all of the Jai'galaar's threat range is in front of it, making flanking the best option to defeat it.

Due to the necessity for a Mandalorian bomber, a bomber variant was produced. Or, more accurately, a bomber module was retrofitted to a number of vessels located beneath the engine. Due to the heat-sinking problems of the engine block, a limiter is placed on bomber-variants to prevent them from overheating the engine and exploding their own ordinance; in addition the missile tubes are removed in order to utilize the storage system for the missiles for the bombing ordinance, making the bombing variant not only much slower but much less effective in a firefight; for good reason.